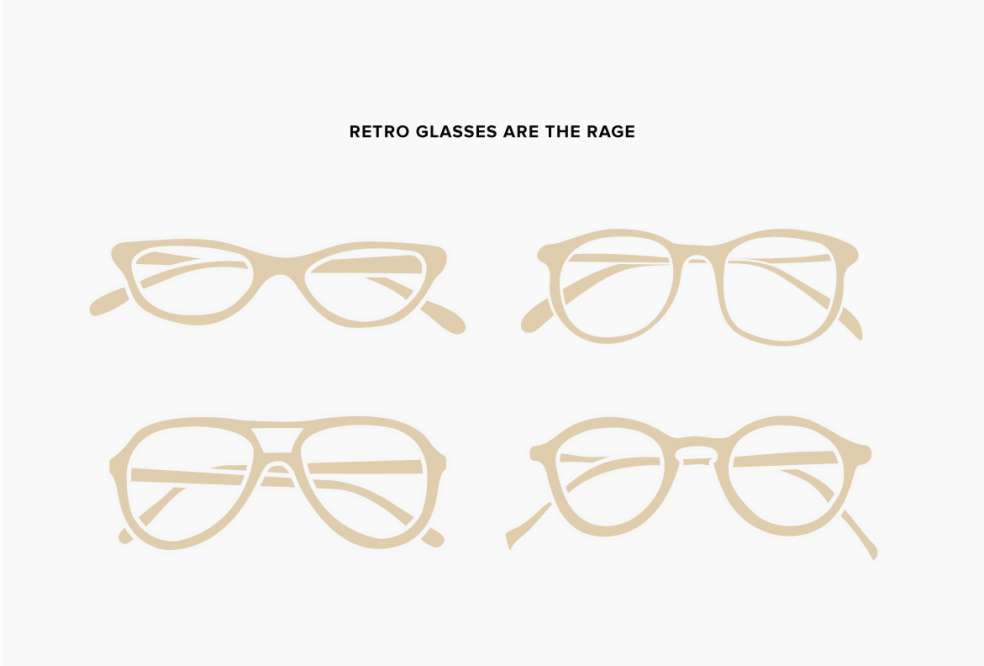 Retro Glasses are The Rage

There's no question. Retro IS the rage. If you don't know what that is – we're here to tell you that it means a lsquo;blast from the past'. Today fashion has come full circle. Ideas that were outdated and banished to their respective decades have now found their way back onto the runway – and that includes retro glasses.
Now, you may be thinking to yourself – glasses are glasses. They have looked and worked the same for half a century or more. But that is simply not true! If you review photographs and films from the 50s, 60s, 70s and 80s you will see that clothes, furniture and anything culturally related were unique. They were 'in', then just as fast, they were 'out'.
Now, look closely and you will see that glasses from the fifties had that distinct cat eye look made popular by Marilyn Monroe, or the 'nerdy' look found on the boys who would later become real rocket scientists. The sixties were psychedelic, and the 70s and 80's revolved around large frames then small ones, colors, and more.
Yes, you don't have to be a history buff to know that eyeglass wear followed fashion. Or, maybe they made fashion! Even so, there is hardly a decade of eyeglass styles that haven't returned in the past few years to be adopted by the latest pop and movie stars. They are labeled retro glasses and they are the newest old thing to hit eyeglasses retailers. Now, maybe you are a 'name' dropper and only want to purchase fashion accessories that are sold in boutiques. Well, guess what, you no longer have to pay boutique prices for them! Instead, cozy up to the internet and find your favorite eyeglass retailer – then spend some quality time online shopping.
You will quickly discover that your favorite designer of clothing, food, shoes and items for the home are now in the eyeglass wear business as well. They have applied their creativity and ingenuity to making frames that are chic, hip and are a little bit of yesterday and today all at once! They have simply brought retro to your eyes – and made wearing glasses fashionable all over again!
Every brand and style of retro glasses are available online today. And, they won't cost you an arm and a leg to become a proud owner. No, for a fraction of the price of retro glasses found at eyeglass retailers at your local shopping center you can be fashion forward. Retro glasses can be fitted with prescription lenses or just made with ordinary lenses that give the appearance at Classic Specs. They can even be made into the latest tint of shades for outdoor wear – and to prevent sun damage to the eyes.
So, we encourage you to take the time to do a little online retro glasses shopping today at Classic Specs. No matter what style or decade you want to represent, what frame or tint, what outfit you want to make a fashion statement with – retro glasses are the finishing touch. And they are as close as our website. Now, what more could you ask for?
Well, maybe that people don't start using hula hoops again – too retro, eh?